Single Parameter Instruments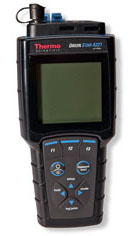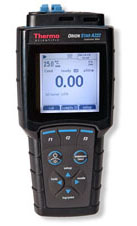 Orion Star™ A221 & Orion Star A222
Orion Star™ A221 pH Meter

Simultaneous measurement of pH and temperature
Orion Star™ A222 Conductivity Meter
Flexible direct and auto-calibration
Provides reliable conductivity, salinity, TDS, and temperature measurements
Orion Star™ A223 & A323
Dissolved Oxygen/RDO Meters
Salinity correction and automatic barometric compensation
Simultaneous display of DO and temperature readings
Call 1.800.833.7958
Orion Star A Series Specifications
Orion Star A221 Reference Guide
Orion Star A222 Reference Guide
Orion Star A223 & A323 Reference Guide
Dual Parameter Instruments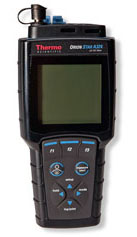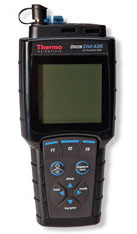 Orion Star™ A324 & Orion Star™ A325
Orion Star™ A324 pH/ISE Meter

Simultaneous measurement of pH and ISE with temperature
Accepts ISFET (Ion Selective Field Effect Transistor) electrodes
Orion Star™ A325 pH/Conductivity Meter
Accepts ISFET (Ion Selective Field Effect Transistor) electrodes
Simultaneous display of pH, conductivity and temperature measurements
Reliable and accurate pH, conductivity, resistivity, salinity, TDS and temperature measurements for soil and water analysis applications
Orion Star™ A326 pH/Dissolved Oxygen/RDO Meter
Salinity correction and automatic barometric pressure compensation
Dissolved oxygen calibration to the Winkler Titration for BOD
Simultaneous display of pH, DO and temperature measurements
Call 1.800.833.7958
Orion Star A Series Specifications
Orion Star A324 Reference Guide
Orion Star A325 Reference Guide
Orion Star A326 Reference Guide
Multi-Parameter Instrument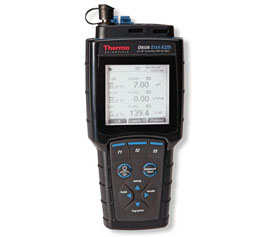 Orion Star™ A329 Meter
pH, ISE, DO/RDO, and conductivity measurements in one waterproof, hand-held unit
Simultaneous display of pH or ISE, conductivity, DO and temperature measurements
Call 1.800.833.7958
Orion Star A Series Specifications
Orion Star A329 Reference Guide
Geotech Multi-Probe Flowblock Monitoring System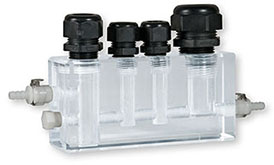 The Geotech Multi-Probe Flowblock Monitoring System enables you to measure several parameters of a sample at the same time using up to 4 probe types.
The Geotech Flowblock can be used directly in-line with most groundwater pumping systems such as the Grundfos Redi-Flo2™, Geotech SS Geosub, Geotech Bladder Pump, or Geopump Peristaltic Pump, etc. Designed for minimal sample volume to reduce stirring dependence of sensors.
Call 1.800.833.7958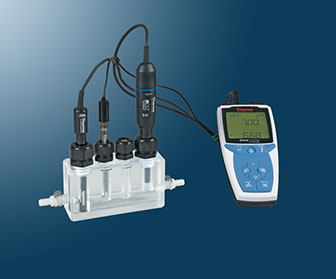 Geotech Flowblock with Thermo Orion Star Series RDO meter and probes installed.