WTW ProfiLine 3310 Series
Single Parameter Handheld Meters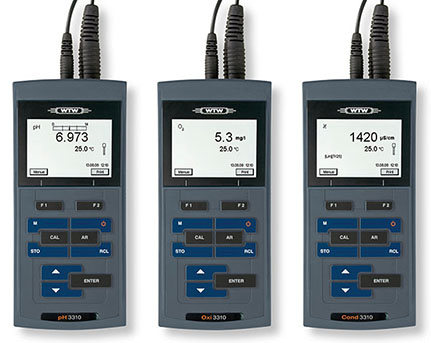 WTW pH 3310, WTW Oxi 3310 and WTW Cond 3310
For performing measurements with single values in a variety of applications.
The 3310 Series is the best choice where high capacity data logging is required whether you are measuring pH, D.O. or conductivity. Not only quality but also quantity makes the difference.
Call 1.800.833.7958
WTW ProfiLine 3310 Series Single Parameter Meter Specifications
WTW pH 3310 Operating Manual
WTW pH/ION 3310 Quick Start Guide
WTW Oxi 3310 Operating Manual
WTW Cond 3310 Operating Manual
WTW ProfiLine 3110 Series and 3205
Single Parameter Handheld Meters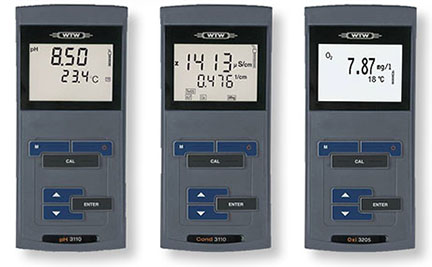 WTW pH 3110, WTW Cond 3110 and WTW Oxi 3205
The pH 3110 is the right choice for those looking for a simple, rugged and waterproof device for portable pH measurement. The keypad with only 6 buttons and the automatic AutoRead function for reproducible measured values provide safe pH measurements and prevent errors.
Conductivity measurement made simple: the Cond 3110 is a rugged and waterproof device for portable conductivity measurement. Easy-to-use, with preset nLF temperature compensation according to EN 27888 for measuring in wastewater and natural waters.
The Oxi 3205 is an easy-to-use, rugged and waterproof portable meter for the measurement of dissolved oxygen. It is suitable for galvanic DO sensors, with adjustable automatic salinity correction. The readings are displayed as saturation or concentration.
Call 1.800.833.7958
WTW ProfiLine 3110 Series & 3205 Single Parameter Meter Specs
WTW pH 3110 Operating Manual
WTW Cond 3110 Operating Manual
WTW Oxi 3205 Operating Manual