WTW MultiLine® IDS
Portable Meters
WTW Multi 3630 IDS, Multi 3620 IDS
and Multi 3510 IDS
The MultiLine® IDS series are digital multi-parameter meters for pH, ORP, dissolved oxygen, conductivity and turbidity. They have a color graphic display, a large memory, two USB inputs, up to three universal sensor inputs and support GLP compliant measurements through automatic documentation. Furthermore, the digital portable meters are ready for radio measurement. Wireless communication between meter and sensor.
Call 1.800.833.7958
WTW MultiLine® IDS Specifications
MultiLine 3630 IDS Operating Manual
MultiLine 3620 IDS Operating Manual
MultiLine 3510 IDS Operating Manual
SenTix 940/945 pH Sensors Operating Manual
SenTix 950/980 pH Sensors Operating Manual
SenTix ORP-T 900 pH Sensors Manual
TetraCon 925 Conductivity Cells Manual
LR 925/01 Conductivity Cells Manual
FDO 925 Optical DO Sensors Manual
WTW ProfiLine 3320 Series
Multi-Parameter Handheld Meters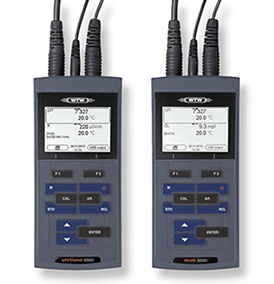 WTW pH/Cond 3320 and WTW Multi 3320
The ProfiLine portable meters use conventional sensors. 3320 Series ProfiLine multi-parameter meters are used for the simultaneous measurement of two parameters. They are used for routine measurements, but have a built-in data logger and interface for sample measuring for evaluation on a computer.
Call 1.800.833.7958
WTW ProfiLine 3320 Series Specifications
WTW pH/Cond 3320 Quick Start Guide
WTW Multi 3320 Operating Manual
Geotech Multi-Probe Flowblock Monitoring System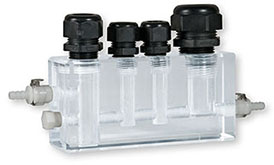 The Geotech Multi-Probe Flowblock Monitoring System enables you to measure several parameters of a sample at the same time using up to 4 probe types.
The Geotech Flowblock can be used directly in-line with most groundwater pumping systems such as the Grundfos Redi-Flo2™, Geotech SS Geosub, Geotech Bladder Pump, or Geopump Peristaltic Pump, etc. Designed for minimal sample volume to reduce stirring dependence of sensors.
Call 1.800.833.7958