Soil Sampling Sleeves
Clear liners for environmental soil sampling requirements.
Welded Core Catchers prevent loose soil from sliding out during sampling events.
Made with medical grade virgin PVC
Transparent
Sturdy and reliable
Call 1.800.833.7958
Zipliner Soil Sampling Sleeves & ZipTool Opener
Designed with safety in mind, the Zipliner Soil Sampling Sleeves are easy-to-open liners for use with direct push soil sampling equipment. After removal from the direct push tooling, the Zipliner is safely and easily opened using the ZipTool to expose the sample without the need of any cutting blades or other sharp objects in accordance with health and safety requirements.
Operates with drill tooling similar to standard liners.
Designed to fit with AMS PowerProbe and the Geoprobe Systems direct push technologies.
The ZipTool is the safest opening tool for soil sampling sleeves.
Similar durability as standard liners.
Made with medical grade virgin PVC.
Standard sleeves also available.
Call 1.800.833.7958
Soil Sampling Supplies
Retaining Cylinders, Caps, Inserts & Fluoropolymer Film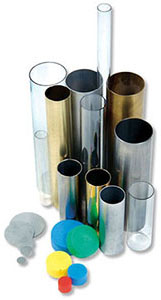 Fluoropolymer Film
Designed for sealing or wrapping samples, and as a material on which soil samples may be dissected and examined. For sealing a sample in a liner, select the perforated roll of 4" x 4" (10cm x 10cm).
Retaining Cylinders
1/2" to 3" (1.3cm to 7.6cm) Diameters with lengths from 1" to 24" (2.5cm to 61cm)
Plastic Caps
1/2" to 3" (1.3cm to 7.6cm) Diameters
Stainless Steel Cap Inserts
3/4" to 3" (1.9cm to 7.6cm) Diameters
Call 1.800.833.7958