Geotech Passive Recovery Canister (PRC)


2" PRCs with & without protective screen
4" PRC
(cutaway view)
The Geotech PRC (Product Recovery Canister) is a passive skimmer with a floating intake that separates and recovers light hydrocarbons from ground water. The Geotech PRC collects floating product down to a sheen then is emptied through a discharge valve at the bottom of the canister after being raised to the surface.
Geotech GeoSorb Sock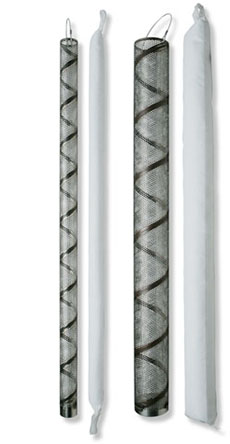 2" (5cm) Well Size and 4" (10cm) Well Size
The GeoSorb is designed to recover free phase hydrocarbons from 2" or 4" (5cm or 10cm) and larger wells. The GeoSorb System consists of a stainless steel screened cage assembly and a product selective absorbent. The system is lowered down the well where it passively absorbs free product.
Geotech Filter Bucket™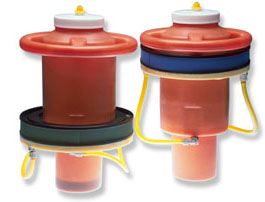 Filter Bucket™ Empty and Full
The Geotech Filter Bucket™ is an independently floating passive hydrocarbon recovery skimmer that is equipped with a visual alarm to indicate when the bucket is full. The heart of the system is a floating cartridge that recovers product for storage in an integral 2-liter reservoir. Actual separation of product from water is carried out by a mesh screen located in the cartridge. This screen is specially treated to pass oil and repel water.
Geotech Gravity Feed
Filter Scavenger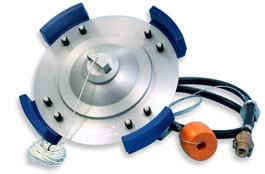 The Gravity Feed Filter Scavenger is a two piece housing designed to float an oil/water separator cartridge at the oil/water surface of a holding vessel. Once floated on the surface and its output hose is connected, it is ready to start recovering product.
Geotech Hydrocarbon
Viscosity Test Kit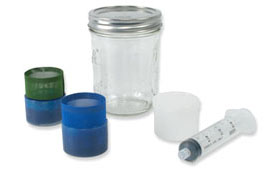 The Hydrocarbon Viscosity Test Kit is used to determine hydrocarbon viscosity vs. applicability of the oleophilic/hydrophobic screen technology. It is especially useful when the Geotech Product Recovery System is going to be used to collect varying hydrocarbons.
The test kit comes with a glass container and lid, floatable test screens of 100 and 60 mesh, sample container, and a syringe for injecting the sample. This screen technology is used on Geotech's product line of assorted intake cartridges and Skimmer assemblies.
Call 1.800.833.7958