Calibration Buffers, Standards, Cleansers, and Storage Solutions

500 mL Geotech pH Buffers
& Conductivity Standards
pH Buffers & Conductivity Standards
Pre-mixed and ready to use
Guaranteed contaminant free
NIST traceable
Up to 5 gallon (18.9 L) sizes available
±1% accuracy
Temperature compensation scale
PPM values with conversion factors
Color coded for easy identification
Call 1.800.833.7958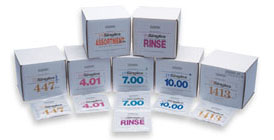 Calibration and Maintenance Singles
Calibration & Maintenance Singles
20 individually sealed packets per box
Easy to use and always fresh
Works with most auto-calibration units available today
Individual packets help control costs
Call 1.800.833.7958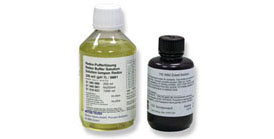 ORP Standards
ORP/Redox probe verification
Powder version, just add distilled water
Liquid version is ready to use
Call 1.800.833.7958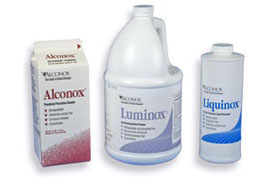 Cleansers
The EPA recommends Luminox so solvent rinse can be eliminated.
Alconox Powdered Precision Cleaner is effective on laboratory glassware, plastic, rubber, metal and other hard surfaces.
Available in 4 lb. (1.8 kg) boxes or by the case.
Luminox Low-Foaming Neutral Cleaner is a aqueous, low-ionic content, non-phosphate blend of organic solvents, surfactants, and rinse aids.
Available in 1 gallon (3.8 L) containers.
Liquinox Critical Cleaning Liquid Detergent for ultrasonic and manual cleaning.
Available by the quart or by the case.
Call 1.800.833.7958

Probe Maintenance Supplies
Probe Maintenance Supplies
Probe storage and refill solutions
Probe cleaning & maintenance solutions
D. O. membranes and cap membranes
O-Rings and service kits
Call 1.800.833.7958