Hach DR 900
Handheld Colorimeter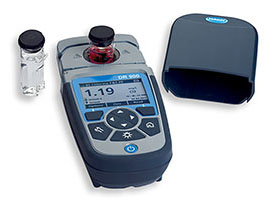 The hand-held DR 900 allows quick and easy access to your most-used testing methods. This colorimeter is waterproof, dustproof and field durable. With an intuitive user interface, easy data transfer abilities, and the ability to test up to 90 of the most commonly tested water methods, the DR 900 makes water testing in harsh field environments a little less challenging.
Call 1.800.833.7958
Thermo Scientific Orion
AQUAfast IV® AQ4000
Portable Field Colorimeter
The Orion AQUAfast IV® AQ4000 multi-wavelength colorimeter stores up to 189 pre-programmed methods. A simple upload procedure updates the colorimeter with the most current programs. The upload keeps the AQ4000 always current.
The Orion AQ4000 features Auto-ID, which when used with Orion Auto-Test cuvettes, automatically identifies the species to be measured, selects the method, wavelength and reaction timer. The user never needs to push a button! The Auto-ID ensures the reagent is matched to the method.
Call 1.800.833.7958
AQUAfast IV® AQ4000 Specifications
AQUAfast IV® AQ4000 Instruction Manual
LaMotte SMART3 Colorimeter®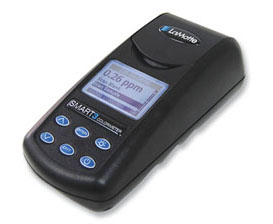 The compact SMART3 Colorimeter® is ideal for water analysis in the field or in the lab. Easy to use software allows the analyst to choose a test factor from over 75 preprogrammed calibrations for LaMotte reagent systems. The reacted sample is always scanned at the optimum wavelength which is automatically selected from the multiple LED optical system and the test result is presented on the large, backlit display.
Call 1.800.833.7958
LaMotte SMART3 Specifications
LaMotte SMART3 Operator's Manual
LaMotte ColorQ DW Photometer
ColorQ DW Photometer kit (Code 2059) is the ultimate portable on-site, hand-held photometer for testing drinking water.
Call 1.800.833.7958
LaMotte Insta-Test® Test Strips
LaMotte offers a convenient, economical way to perform spot checks for several water quality factors. LaMotte test strips are a great way to monitor water without having to use reagents or field kits.
Call 1.800.833.7958
YSI 9300 & 9500 Photometers
| | |
| --- | --- |
| YSI 9300 Photometer | YSI 9500 Photometer |
YSI's new line of photometers includes the Model 9300 and 9500. Eliminate sample preservation by taking your portable, waterproof instruments to the field to perform the analysis on-site. All reagents are safe and easy to use. Selecting the desired test has never been easier. Simply navigate among the list of available tests on the screen of the instruments to choose your test and say "OK". The instrument will then walk you through the steps to complete the test. Simple. Convenient. Accurate.
Call 1.800.833.7958
YSI 9300 & 9500 Photometers Specifications
YSI 9300 Photometer Instructions
YSI 9500 Photometer Instructions