For Immediate Release
Denver, Colorado – September 16, 2013
National Governors Association Tours Geotech Environmental Equipment
The National Governors Association toured Geotech Environmental Equipment, Inc. on behalf of the Colorado Department of Economic Development and the Colorado Workforce Development Council. The group is comprised of Business Leaders (Governor appointed Chairs of State Workforce Boards), and Directors of those boards. Participants were immersed in an experience that took them through the growth cycle of a Sector Partnership; from idea, to launch, to implementation, to sustainability.
"Geotech Environmental Equipment is honored to host the National Governors Association," said Jeff Popiel, Geotech President and CEO. "We have worked closely with both the Denver and Colorado Offices of Economic Development to understand and create systems to support the labor needs of employers manufacturing products in the U.S."
Founded in 1908, the National Governors Association (NGA) is the collective voice of the nation's governors. Its members are the governors of the 55 states, territories and commonwealths. NGA provides governors and their senior staff members with services that range from representing states on Capitol Hill and before the Administration on key federal issues to developing and implementing innovative solutions to public policy challenges through the NGA Center for Best Practices. NGA also provides management and technical assistance to both new and incumbent governors.
Geotech, with 105 employees worldwide, is a leader in the manufacturing and distribution of ground water sampling, monitoring and remediation equipment since 1978. State-of-the-art manufacturing, machining, thermoplastic extrusion, contract manufacturing and injection plastic molding capability allow Geotech to innovate cost-effective solutions to tough environmental problems for its extensive government, consulting and private industry customers. Geotech currently has distribution in 100+ countries including Australia, Chile, Mexico, the UK, the Netherlands, and France. In addition to five domestic offices, they have satellite offices in Spain and China.
For more information contact:
Mickele Bragg
Geotech Environmental Equipment
Office: 303.320.4764
Cell: 720.431.3052
MickeleB@GeotechEnv.com
###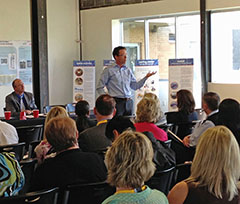 Jeff Popiel, Geotech President and CEO,
talks about how partnerships help
manufacturers in the U.S.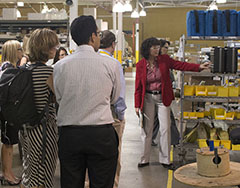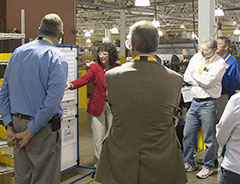 NGA Workforce Board members tour
Geotech's manufacturing facility.