TSI VelociCalc® Models 9535 and 9545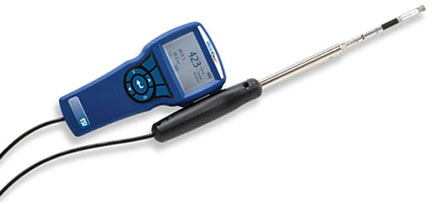 The Models 9535 and 9545 air velocity meters are like having multiple meters — for the price of just one. These meters simultaneously measure and data log several ventilation parameters using a single probe with multiple sensors. Both models measure velocity, temperature and calculate flow. The Model 9545 also measures relative humidity, calculates dew point and wet bulb temperature. Models 9535 and 9545 have telescopic straight probes; Models 9535-A and 9545-A have telescopic articulated probes.
Simple to operate
Accurate air velocity measurement
Simultaneously measure temperature and velocity
Displays up to three measurements simultaneously
Measures humidity (Model 9545 and 9545-A)
Calculates volumetric flow and actual/standard velocity
Data log 12,700+ samples and 100 test IDs
LogDat2™ downloading software included
Articulated probe versions available (9535-A and 9545-A)
Call 1.800.833.7958
TSI VelociCalc Models 9535 & 9545 Specifications
TSI VelociCalc 9535 Operation and Service Manual
TSI VelociCalc 9545 Operation and Service Manual
TSI Q-Trak Model 7565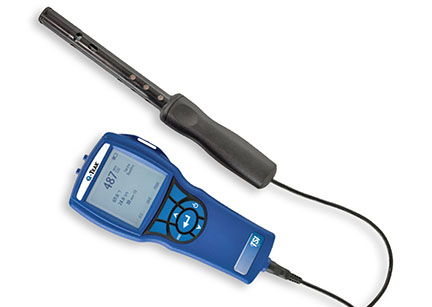 Providing a comfortable, safe and healthy indoor environment is an increasingly important concern. Good air quality increases concentration and productivity. It can also reduce lost days due to absence.
TSI's Q-TRAK IAQ Monitor provides quick, accurate information to assess key IAQ parameters.
Measures CO2, temperature, humidity, and CO
Calculates dew point, wet bulb and percent outside air
Displays up to 5 measurements simultaneously
One instrument with multiple plug-in probe options
User-selectable logging intervals and start/stop times
Store up to 38.9 days of data collected at one-minute log intervals
TRAKPRO™ software provided for data logging, analysis and documenting results
Perform single-point tests for quick building surveys
Call 1.800.833.7958