Thermo Scientific pDR-1000AN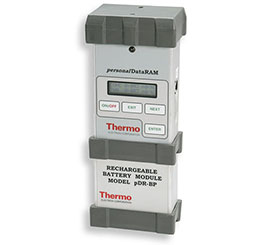 The personalDataRAM™ pDR-1000AN passively measures mass concentrations of dust, smoke, mists, and fumes in real time, and sounds an audible alarm whenever the user-defined level is exceeded.
Highest performance of any real-time personal particulate monitor – Measurement range from 0.001 to 400 mg/m3 (auto-ranging).
Rugged and extremely compact – Palm sized pDR-1000AN weighs only 18 oz. (0.5 kilogram) and can be attached to a belt or shoulder strap, hand held, operated on a table top, or mounted on a tripod.
Simple zeroing and calibration – The pDR-1000AN comes gravimetrically calibrated (NIST traceable) in mg/m3 using standard SAE Fine (ISO Fine) test dust. Zeroing with particle-free air is accomplished quickly and effectively under field conditions using the zeroing kit included with the instrument.
Safety approvals and certifications – The pDR-1000AN complies with US FCC rules (Part 15) and has received CE certification. It also has intrinsic safety approval from the US Mine Safety and Health Administration (MSHA) for use in coal mining environments containing methane gas.
Call 1.800.833.7958
Thermo Scientific pDR-1000AN Specifications
Thermo Scientific pDR-1000AN Manual
TSI Model 8520 DustTrak™
Aerosol Monitor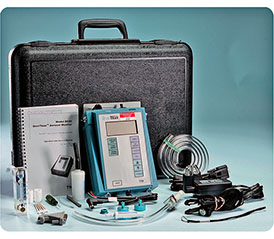 TSI DustTrak™ Aerosol Monitor Rental Kit
The DustTrak™ Aerosol Monitor is a portable, battery-operated laser photometer which gives you a real-time digital readout with the added benefits of a built-in data logger. Suitable for clean office settings as well as harsh industrial work places and outdoor applications, the DustTrak detects potential problems with airborne contaminants such as dust, smokes, fumes and mists.
The DustTrak™ measures aerosols in a wide variety of environments, from offices and industrial workplaces to outdoor environmental and construction sites. TSI's DustTrak provides reliable exposure assessment by measuring particle concentrations corresponding to PM10, PM2.5, PM1.0 or respirable size fractions.
Call 1.800.833.7958
TSI DustTrak Aerosol Monitor Specifications
TSI Model 8520 DustTrak Aerosol Monitor Operation and Service Manual
TSI DustTrak™
Environmental Enclosure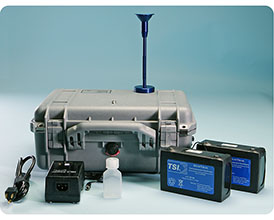 The DustTrak now has a weatherproof Environmental Enclosure accessory for making accurate and precise measurements outdoors. The Environmental Enclosure can be used in conjunction with the DustTrak for many different applications. While its primary use is in outdoor applications, the enclosure and extended-life battery may also be advantageous in indoor industrial applications to provide additional security and protection to the instrument.
Sampling inlet specifically designed to sample efficiently in a broad range of wind conditions.
Water trap that prevents precipitation from entering the instrument.
Extended-life, lead acid batteries included with the enclosure permit continuous, 24-hour operation.
Two batteries are supplied with the unit, allowing one battery to be charged while the other is in operation.
Rugged enclosure provides a secure method of storing and transporting the DustTrak and its accessories.
Call 1.800.833.7958
SKC Model 224-PCXR8
Personal Sample Pump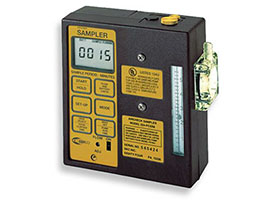 Constant flow personal or area sampling pump suited for a broad range of applications. Operating range of 5 to 5000 ml/min (low flow applications of 5 to 500 ml/min ). Battery-operated pump is ideal for industrial hygiene studies as well as environmental testing. Collects most hazardous chemical gases, vapors, and respirable dust from the air. Use the BIOS Defender for calibration.
On-board computer makes operation easy
Unattended sampling for periods up to 7 days
Multiple tube sampling capability
Compensation with high back pressure
Quiet-running package
Wide range of flow rates
Energy-efficiency
Programmable timing
One-year warranty
Pulsation-free flow
Impact-resistant case
Call 1.800.833.7958
Bios Defender 510M
Primary Standard Calibrator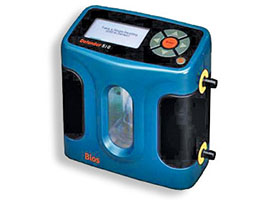 The Defender Model 510M (soapless) electronic calibrator uses volumetric calibration for personal air samplers and other volumetric instruments. Designed exclusively for the occupational health and safety industry and built on next-generation Bios DryCal® technology. The Defender has a broad dynamic flow range and a choice of single, hands-free continuous, or user-specified "Burst" measurements. You can measure the time intervals between measurements for checking personal sampling pump stability over a typical sampling period product description.
Menu-driven system for complete reading flexibility
Highly accurate and repeatable
50ml to 5 L wide flow range
Large illuminated graphical display with zoom feature
Sleek design - smooth molded case with rubber hand-grips is slim enough for a briefcase
RoHS compliant - lead-free components
Auto shut-off
Interior shock absorbers for field use
Improved internal valve design for greater reliability
Large illuminated flow cell viewing window
Call 1.800.833.7958