Thermo Scientific TVA2020
Toxic Vapor Analyzer
The Thermo Scientific™ TVA2020 Toxic Vapor Analyzer is the only intrinsically safe, portable field analyzer using both Flame Ionization Detection (FID) and Photo Ionization Detection (PID) technologies.
Dual FID/PID technology
Bluetooth enabled
Lightweight and compact design
Easy to service in the field
No PC based software required
Call 1.800.833.7958
Thermo Scientific TVA2020 Specifications
Thermo Scientific TVA2020 Instruction Manual
Thermo Scientific TVA-1000B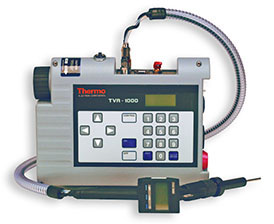 The TVA-1000B is the only over the shoulder portable vapor analyzer that offers both PID (Photoionization Detection) and FID (Flame Ionization Detection). Users can measure a wide variety of organic vapors over an impressive dynamic range (0-50,000 ppm). The FID operates by breaking hydrogen-carbon bonds and is not limited by the ionization potential of the molecule.
Dual simultaneous FID/PID or single FID detectors
Portable and lightweight
Multiple response factors and curves
Multi-point calibration
Eight programmable location labels
On-board datalogging
Call 1.800.833.7958
Thermo Scientific TVA-1000B Specifications
Thermo Scientific TVA-1000B Manual