Landtec GEM™ 5000 Portable Gas Analyzer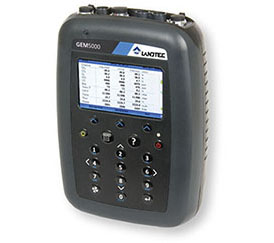 The GEM™ 5000 is designed specifically for use on landfills to monitor Landfill Gas (LFG) collection and control systems. The GEM™ 5000 samples and analyzes the methane, carbon dioxide and oxygen content of landfill gas with options for additional analysis.
Measures % CH4, CO2 and O2 Volume, static pressure and differential pressure
Calculates balance gas, flow (SCFM) and calorific value
Six times more accurate and twice as fast
Lighter and more compact
Certified intrinsically safe for landfill use
Calibrated to ISO/IEC 17025
CO and H2S (on Plus models only)
3-year warranty with optional service plan
NEW annual recommended factory service
Available with GPS and additional gas detection
Call 1.800.833.7958
Landtec GEM 5000 Specifications
Landtec GEM 5000 Operating Manual
Landtec GEM™ 2000 Plus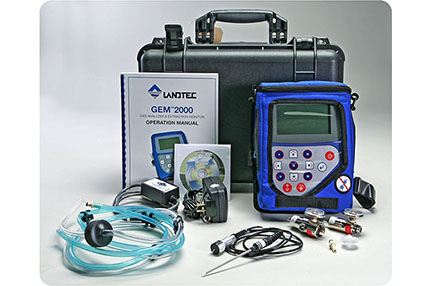 Portable system that monitors landfill gas extraction systems accurately and efficiently. Measures CO & H2S gases and the percent per volume of CH4, CO2 and O2. Also measures static and differential pressure. Records site and well conditions.
Measures CO & H2S gases
Measures % CH4, CO2 and O2 volume, static pressure and differential pressure
Calculates balance gas, flow (SCFM) and calorific value (KW or BTU)
Displays % LEL of CH4, Peak CH4 and user-defined comments
Records site and well conditions
Extended operation (10-14 hours use from one charge)
Accepts protocols
Two instruments in one (GA and GEM mode)
Call 1.800.833.7958
Landtec GEM 2000 Plus Specifications
Landtec GEM 2000 Plus Operation Manual