The GeoSwift Mapper UAS also features an interchangeable camera payload bay providing flexibility to suite your business's needs. Select from one or multiple cameras to produce professional outputs that include:
Orthomosaic
DSM (Digital Surface Model)
Topographic Map
3D Mesh With Texture
NDVI (Normalized Difference Vegetation Index)
Point Cloud
Thermal/IR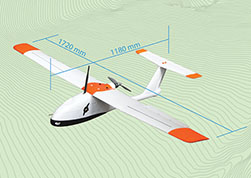 Aircraft Specifications

Platform Type
Flight Time
Area Covered
Wing Span
Operating Temperature
Gross Takeoff Weight
Maximum Airspeed
Maximum Operational Winds
Best Mapping Speed
Stall Speed
Maximum Rate of Climb
Operational Ceiling
Payload
Operating Temperature
Flight Management System


Fixed Wing
1 hour
600 acres (900 with battery upgrade)
67.5"
-5 to 100°F
6 lbs.
44 mph (20 m/s)
25 mph (11 m/s)
30 mph (13 m/s)
11 m/s
4.6 m/s
14,000' MSL
RGB or Multispectral
-5 to 100°F
SwiftCore™


Ground Control Station Specifications

Flight Management System
Operating System
Run Time
Communication Frequency


SwiftStation™, SwiftPilot™, and SwiftTab™
Android Tablet, 9.7" Display
4+ Hours
900mhz
The GeoSwift Mapper UAS includes everything required for conducting mapping missions.
Aircraft
Battery
Ground Station with Tripod
Tablet Computer
Field Toolbox
Carry Case
Control Handset
Flight Training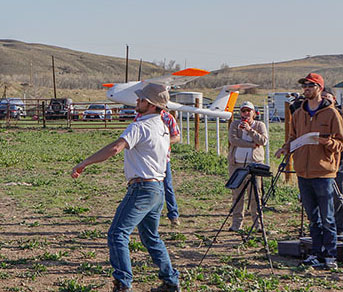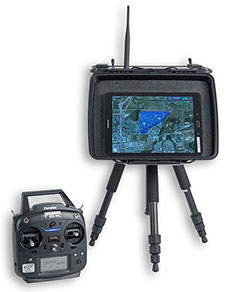 Available Flight Training
Select from one or multiple camera and accessory options that suit your mapping needs.
Sony a6300 with Optional PPK/RTK (centimeter accuracy)
APS-C 24 MP Sensor
World's Fastest AF (Auto Focus)
MicaSense RedEdge Multispectral Camera
5 Spectral Bands including near – IR
FLIR Vue Pro
Thermal Imaging
Adobe® Reader® is required