For Immediate Release
Denver, Colorado – November 14, 2011
United States Secretary of Commerce, John Bryson Awards
Geotech Environmental Equipment, Inc. Certificate of Excellence
for Export Achievement
US Secretary of Commerce, John Bryson presented Geotech Environmental Equipment, Inc. (Geotech) with the Certificate of Excellence for Export Achievement. The award was presented at Geotech's factory in Denver's Swansea area. Secretary Bryson visited Geotech to discuss the Obama administration's efforts to put more Americans back to work and encourage economic growth. Secretary Bryson toured Geotech's award-winning facility with Congresswoman Diana DeGette (D-Colo).
In his first public appearance since he became Secretary of Commerce last month, Bryson acknowledged that in 2011, Geotech's export revenues increased 40% and they added 7 employees; all indicators of Geotech's formula for success. This strategy could be duplicated by US small business to ensure economic growth for the nation. "Exports produce jobs," Bryson said.
"We need to take what you're doing and spread it across the country," said Congresswoman DeGette, after touring the plant with Bryson and Popiel.
Accepting the award on the company's behalf was Jeff Popiel, President and CEO. "Geotech Environmental Equipment is honored to host Secretary Bryson and Congresswoman DeGette," said Popiel. "We have worked hard to provide the highest quality equipment used to monitor, test and clean up groundwater pollution to over 20,000 companies, domestically as well as internationally. We are extremely grateful for this recognition."
In addition to his role at Geotech, Mr. Popiel shares his leadership talents with many organizations including fund raising for the Ronald McDonald House Charities, an on-line high-school called Provost Academy Colorado, the World Trade Center of Denver for which Geotech was awarded the Strategic Partner of the year award in 2011 and the Elyria-Swansea-Globeville Business Association which seeks to support the community and improve the economy for the Elyria Swansea area of Denver.
John Bryson was appointed by President Obama as the 37th Secretary of Commerce and sworn into office on October 21, 2011. Bryson has nearly three decades of business experience, including 18 years as Chairman and Chief Executive Officer of Edison International.
Chief Deputy Whip Diana DeGette is serving her 8th term in Congress as Representative for the First District of Colorado. She is a member of the Committee on Energy and Commerce, a congressional committee with jurisdiction over health care, trade, business, technology, food safety, and consumer protection. She also serves as the Ranking Member of the Subcommittee on Oversight and Investigations.
Geotech, with 95 employees worldwide, is a leader in the manufacturing and distribution of ground water sampling, monitoring and remediation equipment since 1978. State-of-the-art manufacturing, machining, thermoplastic extrusion, contract manufacturing and injection plastic molding capability have allowed Geotech to innovate cost-effective solutions to tough environmental problems for its extensive government, consulting and private industry customers. Geotech currently has distribution in 72 countries including Australia, Chile, Mexico, the UK, the Netherlands, and France. In addition to five domestic offices, they have satellite offices in Spain and China.
For more information contact:
Mickele Bragg
Geotech Environmental Equipment, inc.
Office: 303.320.4764
Cell: 720.431.3052
MickeleB@GeotechEnv.com
###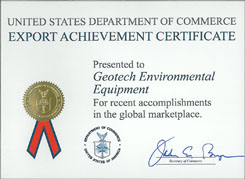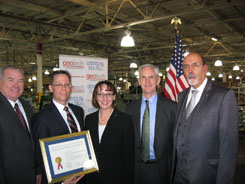 Pictured l-r:
James Kennedy, Southwest Network Director,
US Department of Commerce
Jeffrey Popiel, President and Chief Executive Officer, Geotech Environmental Equipment, Inc.
Lana Lennberg, Senior International Trade Specialist, US Department of Commerce
John Bryson, Secretary of Commerce,
US Department of Commerce
Paul Bergman, Director of the Denver USEAC,
US Department of Commerce

Pictured l-r:
Jeffrey Popiel, Geotech Environmental
President and CEO
John Bryson, Secretary of Commerce,
US Department of Commerce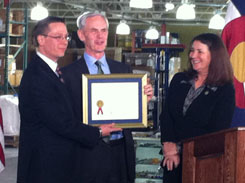 Pictured l-r:
Jeffrey Popiel, President and CEO, Geotech Environmental
John Bryson, Secretary of Commerce,
US Department of Commerce
Diana DeGette, Congresswoman,
US Government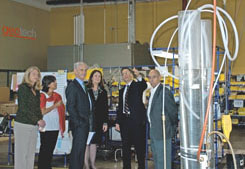 Pictured l-r:
Cary Kennedy, Deputy Mayor, City of Denver
Judy Montero, Councilwoman, City of Denver
John Bryson, Secretary of Commerce,
US Department of Commerce
Diana DeGette, Congresswoman,
US Government
Jeffrey Popiel, President and CEO,
Geotech Environmental
Frank Gonzales, Production Manager,
Geotech Environmental