Geotech High Vacuum Sampler
The Geotech High Vacuum Sampler uses it's internal compressor to draw air from a sampling point source and then convey the air into a sealable sample bag. The unit's compressor is capable of producing up to 27 inches of Hg (99 mbar) vacuum.
Typical applications include sampling soil vapor points and soil vapor extraction systems.
Approximately 45 to 60 minute operation with 8Ah lead acid battery.
Reverse polarity protection.
Optional AC cord with adapter for use with world mains connection.
| | | |
| --- | --- | --- |
| Power Requirements | | 72-84 W, 12-14 VDC input at 7.5 Amps |
| Nominal Operating Current | | 6 Amps DC |
| Over Current Protection | | 15 Amps |
| Maximum Operating Vacuum | | 27 Inch-Hg (99 mbar) |
| Ambient Operational Temperature | | 50°-104°F (10°-40°C) |
| Dimensions | | 6.7" H x 4.80" D x 11.40" W (17.02cm H x 12.92cm D x 28.96cm W) |
| Weight | | 11.4 lbs. (5.17 kg) |
| Case (Optional) | | 21.5" L x 15" H x 7.5" W (54.6cm L x 38.1cm H x 19.05cm W) |
| Case Weight | | 7.9 lbs. (3.6 kg) total |
| Free Air CFM @ 10 Vac Inch-Hg | | 0.38 |
| Free Air CFM @ 20 Vac Inch-Hg | | 0.16 |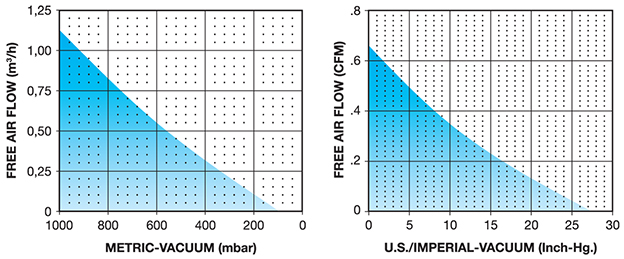 Adobe® Reader® is required