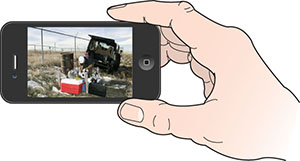 Enter the Geotech Product
Photo Competition!
Win valuable prizes and have some fun taking action shots of people using
Geotech brand equipment!
Take as many pictures as you like!
A $100 gift card will be awarded each month!
Winning photos will be published in Geotech's monthly electronic
newsletter and on the web site.
What constitutes a winning photograph?
We'll award points if your photo...
only shows Geotech equipment in use by real workers at real sites,
close-ups of the Geotech equipment,
equipment being used safely in observance of the health and safety procedures required
has companion photos showing as much of the site and surrounding area as possible (with site owner's permission, of course),
is well composed: nice framing, interesting background… extra points if the viewer can tell what type of project you were working on,
has an unusual twist or story: equipment being used overseas, of an interesting project, or for humanitarian purposes… wildlife or Mother Nature butting/intruding… the perfect shot at sunset, etc.
Digital photos only, in jpg or tiff formats, 2 MB or larger if possible.
Entering the competition is easy, go here to review the rules and guidelines and download the entry form. Every entry must be accompanied by a completed Geotech Photo Competition Entry Form.