Leptron RDASS HD2

Leptron RDASS HD2 with Fixed Sony Alpha a6000 Camera
The RDASS HD2 is a commercial-grade unmanned aircraft system (UAS, or Drone) engineered for professionals. The RDASS features manual or autonomous flight modes, intelligent fault detection, and strong wind and sub-freezing temperature flight capability. The RDASS is configurable for multiple remote sensor payloads, night navigation lighting, first responder strobe, and additional video streaming options.
Call 1.800.833.7958
Leptron RDASS Precision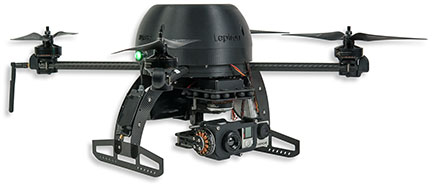 Leptron RDASS Precision with Stabilized Infrared and GoPro Hero4 Cameras
The Rapidly Deployed Aerial Surveillance System (RDASS) Precision is a vertical takeoff and landing multirotor platform used for stability, versatility and professional-grade remote sensing. The RDASS Precision model offers the same aerodynamic aircraft design as the RDASS HD, but it integrates a military-grade autopilot system with precision GPS and an advanced inertial navigation system. The RDASS is commanded from Leptron's Precision Ground Control Station (PGCS) that supports autonomous flight operations with the option of taking direct control at any time. The PGCS also offers the pilot superior situational awareness by displaying aircraft position on a moving map and real-time video from the aircraft's camera(s).
The RDASS camera mounting system accepts Leptron stabilized or fixed gimbal configurations. Each gimbal is perfectly balanced to minimize power consumption to optimize in-air performance. Additionally, the RDASS Precision can be equipped with navigation LEDs, red and blue strobe lights, and additional video viewing stations. With dozens of user defined system configurations available, the RDASS Precision is an ideal choice for public agencies and sensitive sites.
Call 1.800.833.7958