Thermo Scientific pDR-1000AN
The personalDataRAM™ pDR-1000AN passively measures mass concentrations of dust, smoke, mists, and fumes in real time, and sounds an audible alarm whenever the user-defined level is exceeded.
Highest performance of any real-time personal particulate monitor – Measurement range from 0.001 to 400 mg/m3 (auto-ranging).
Rugged and extremely compact – Palm sized pDR-1000AN weighs only 18 oz. (0.5 kilogram) and can be attached to a belt or shoulder strap, hand held, operated on a table top, or mounted on a tripod.
Simple zeroing and calibration – The pDR-1000AN comes gravimetrically calibrated (NIST traceable) in mg/m3 using standard SAE Fine (ISO Fine) test dust. Zeroing with particle-free air is accomplished quickly and effectively under field conditions using the zeroing kit included with the instrument.
Safety approvals and certifications – The pDR-1000AN complies with US FCC rules (Part 15) and has received CE certification. It also has intrinsic safety approval from the US Mine Safety and Health Administration (MSHA) for use in coal mining environments containing methane gas.
Call 1.800.833.7958
Thermo Scientific pDR 1000AN Specifications
Thermo Scientific pDR 1000AN Manual
Thermo Scientific pDR-1500 personal DataRAM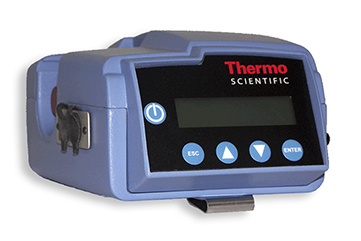 The Thermo Scientific pDR-1500 personal DataRAM is a fully integrated, active sampling personal scale instrument with greater accuracy, increased capabilities, low size and weight, maximum ease-of-use and increased operating time.
The pDR-1500 personal DataRAM accurately measures aerosol concentration in real-time, with relative humidity compensation, true volumetric flow control and legacy pDR nephelometry. An integrated sample filter enables post-gravimetric validation of data.
Call 1.800.833.7958
Thermo Scientific pDR-1500 Specifications
Thermo Scientific pDR-1500 Instruction Manual