Geotech Oil/Water Separators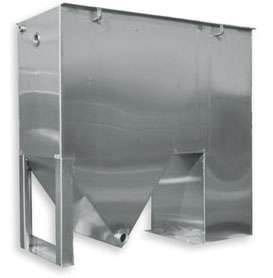 Geotech Oil/Water Separators are designed to separate oil, light petroleum products, and oily-coated solids from water with 99.9% efficiency. The separator is comprised of a tank with inlet, separation chamber, sludge chamber, and clean water outlet- all constructed from 12-gauge stainless steel.
Professional lined for superior corrosion resistance
Marine-grade aluminum vapor control covers
Non-clog inlet with diffuser for even distribution across separator chamber
Compatible with Geotech positive displacement pump or gravity feed
Built in underflow weir to control settled solid from redistributing
Meets EPA Method 1664 Rev. A and EU EN 858-1 Standards
Call 1.800.833.7958
Geotech Oil/Water Separator Specifications
Geotech Oil/Water Separator Manual
Geotech LO-PRO™ Air Strippers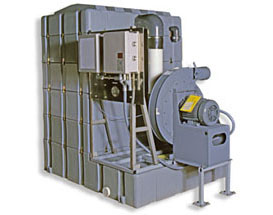 Air stripping is widely used to remove volatile contaminants from groundwater. Geotech LO-PRO™ Air Stripper Models II and III are highly efficient water treatment systems that can remove up to 99.99% of many volatile organic compounds (VOC's) from water.
Systems are self-contained for use in limited space applications.
Geotech SS High Flow
Air Strippers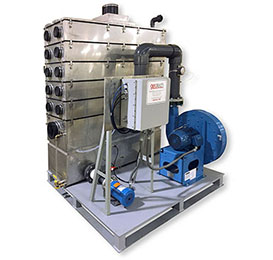 The Geotech SS Air Strippers are designed to remove many volatile organic compounds (VOCs) from water using a countercurrent design that treats contaminated water with 99.99% efficiency in a single pass. Geotech offers a wide variety of sizes ranging from one to six trays – capable of handling a flow rate from .5 GPM to 1300 GPM.
No Recirculating – No Liquid Phase Media or Packing
Removes a wide variety of volatile organic compounds
Vacuum induced design providing more efficiency andeliminates leaks
Wide variety of tray configurations based on treatmentcriteria
Easier maintenance with designated cleaning ports
Remote telemetry for system monitoring available
Inquire about complete pump and treatment systems
GAC-L Filter Liquid Phase
Carbon Media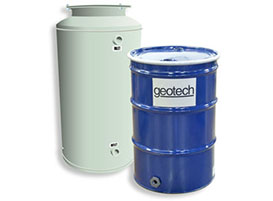 GAC-L 250-2000 lb. Vessel
and GAC-L 100-400 lb. Vessel
The GAC-L filter is a media filter vessel designed to treat liquid streams. While the typical design application is activated carbon adsorbent unit, the filter can easily accommodate many media types.
Dissolved Organic Removal (Activated Carbon)
Suspended Solids Removal (Sand Filter)
Dissolved Minerals (Softener Resin)
Oil and Grease Removal (Organo-Clays)
Dissolved and Precipitated Metals Removal
Special Organics (Resin/Carbon Blend)
Catalytic Reactor (Chlorine and Peroxide Removal)
Bio-Remediation Contactor Unit
Call Geotech for larger systems
Call 1.800.833.7958
GAC-L Filter 100-400 lb. Specifications
GAC-L Filter 250-2000 lb. Specifications