Geotech Geosub 2 Pump
and Controller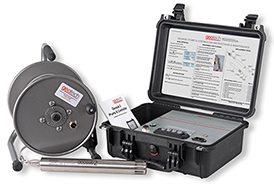 This stainless steel sampling pump is the most versatile single stage DC pump in the industry. Designed with all stainless steel components, the Geosub 2 allows you to sample with confidence even in the harshest well conditions. The Geosub 2 operates with the Geotech Geosub 2 Controller.
Grundfos Redi-Flo2®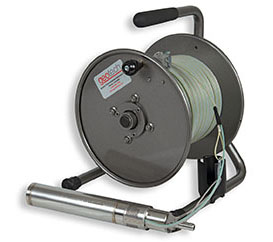 The Grundfos Redi-Flo2® with Variable Frequency Drive does it all with precise control. A wide performance range of high flow rates for purging and precision low flow sampling from the same pump. Designed and built for long-term deployment in dedicated monitoring wells, or as a portable system.
Call 1.800.833.7958
Grundfos Redi-Flo2 Specifications
Redi-Flo2 & Geotech VFD Systems Installation & Operation Manual
Geotech Variable Frequency Drive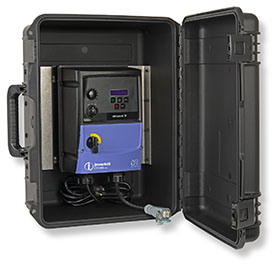 The Geotech Variable Frequency Drive (VFD) is designed to operate and protect the Redi-Flo2® pump. With the turn of a knob, an operator can precisely control the discharge flow rate from the pump from 8 GPM (30 LPM) to 100 milliliters per minute, to depths down to 280 feet (85m).
Geotech Redi-Flo2/MP1 Dedicator®
Groundwater Sampling Systems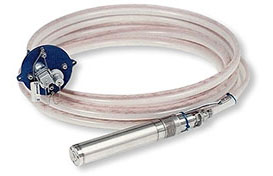 The Geotech Dedicator® is a turnkey, dedicated sampling system designed for easy installation and operation. Each system is custom-built to well specifications, completely assembled, and tested prior to shipment. Dedicator® Systems include a low profile well seal, Happy Hose!® (integrated motor lead, safety cable and discharge tubing), a Grundfos® Redi-Flo2/MP1 electric submersible pump and all clamps and fittings. The well seal incorporates an access port for water level indicators when the sample tube is removed; low-clearance adapters are available to fit our standard 2" and 4" (5.08 and 10.2 cm) well seals in virtually any well pipe size.
Geosmart
Dedicated Electrical Pump Sampling Systems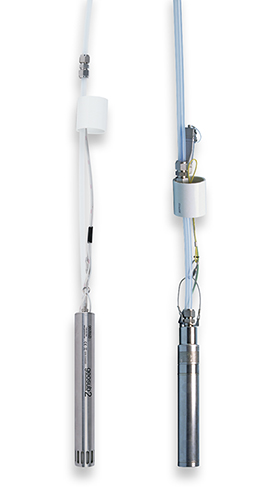 Dedicated Geosub 2 and Grundfos Redi-Flo2®
Do you have a groundwater monitoring project that will require pumps in multiple dedicated monitoring wells? Let Geotech help with our Geosmart Dedicated Electrical Submersible Pump Sampling Systems. Pre-assembled to your specifications and individually packaged for easy installation, they will save you installation time and money at your monitoring site. Dedicated sampling systems are preferred when additional analytical costs and decontamination of equipment between monitoring wells is impractical and not cost-effective. You can choose the pumps, tubing and cable materials, lengths and well caps.