Grundfos Enviro Retrofitted Submersible Pumps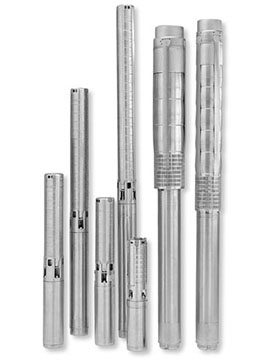 These Grundfos submersible pumps are made of stainless steel and retrofitted with PTFE to handle the rigors of contaminated groundwater pumping and continuous operation in remediation applications. Built to deliver optimum efficiency during periods of high demand, all Grundfos pumps provide low, long-term operating costs and high operating reliability regardless of the application.
Enviro retrofitted Grundfos submersibles meet government guidelines for environmental equipment and have been proven through extensive use in the field.
Many models and gpm ranges to choose from.
4" (10cm) & LARGER WELLS:
5 GPM (18.9 LPM):
Grundfos 5S Enviro Retrofitted Pumps
7 GPM (26.5 LPM):
Grundfos 7S Enviro Retrofitted Pumps
10 GPM (37.8 LPM):
Grundfos 10S Enviro Retrofitted Pumps
16 GPM (60.6 LPM):
Grundfos 16S Enviro Retrofitted Pumps
25 GPM (94.6 LPM):
Grundfos 25S Enviro Retrofitted Pumps
35 GPM (132.4 LPM):
Grundfos 35S Enviro Retrofitted Pumps
45 GPM (170.3 LPM):
Grundfos 45S Enviro Retrofitted Pumps
62 GPM (234.7 LPM):
Grundfos 62S Enviro Retrofitted Pumps
77 GPM (291.5 LPM):
Grundfos 77S Enviro Retrofitted Pumps
6" (15cm) & LARGER WELLS:
85 GPM (321.8 LPM):
Grundfos 85S Enviro Retrofitted Pumps
150 GPM (567.8 LPM):
Grundfos 150S Enviro Retrofitted Pumps
230 GPM (870.6 LPM):
Grundfos 230S Enviro Retrofitted Pumps
300 GPM (1135.6 LPM):
Grundfos 300S Enviro Retrofitted Pumps
8" (20cm) & LARGER WELLS:
385 GPM (1457.4 LPM):
Grundfos 385S Enviro Retrofitted Pumps
475 GPM (1798.1 LPM):
Grundfos 475S Enviro Retrofitted Pumps
10" (25.4cm) & LARGER WELLS:
625 GPM (2365.9 LPM):
Grundfos 625S Enviro Retrofitted Pumps
800 GPM (3028.3 LPM):
Grundfos 800S Enviro Retrofitted Pumps
1100 GPM (4163.9 LPM):
Grundfos 1100S Enviro Retrofitted Pumps
Call 1.800.833.7958